@ Japanese Restaurant wearing Japanese Cotton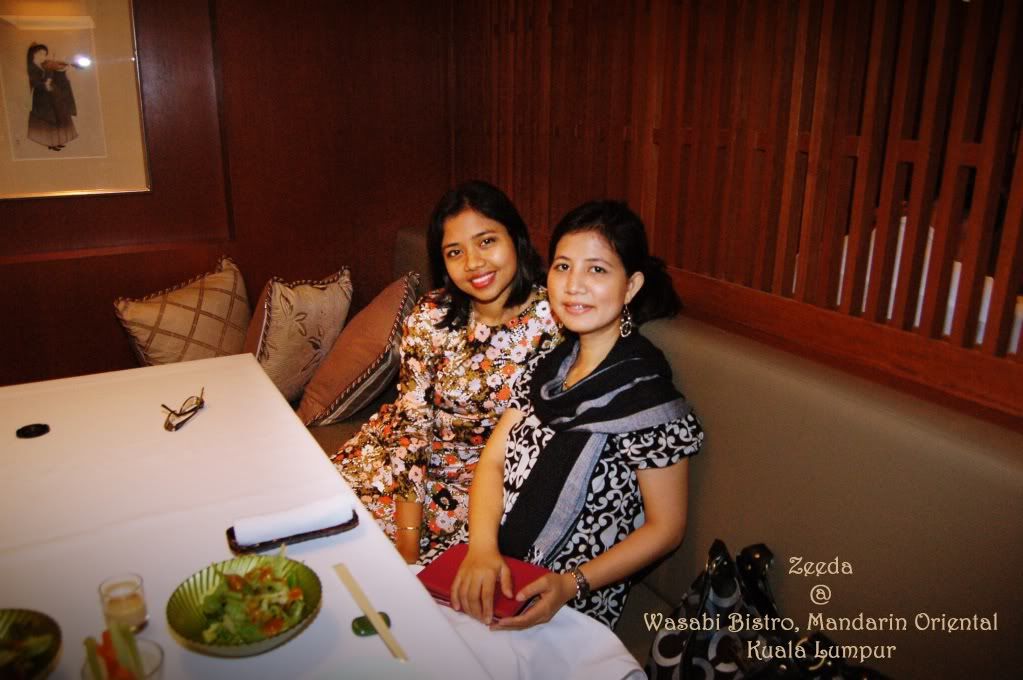 My dear darling bff invited me for an expensive yet free lunch
@ Wasabi Bistro, Mandarin Oriental Kuala Lumpur.
She had it in her hand, a lunch voucher for two person, which we can't say no to.
It's in Mandarin Oriental, for cry out loud.
We have no Platinum credit card in our cheap imitation handbags.
Without this voucher, there's no way we could even had a slightest chance to be in this restaurant.
With this glorious voucher, we could at least dream of having our lunch here,
pretending as if we were daughters of a rich dad.
Sadly, we only have our poor dad.
Therefore, voucher is what we dreadfully needed. *sad story, but true indeed*
So, Sabtu 11 June 2011, kitaorang pun berdesup ke KL dengan perut kosong.
Harap2nya..lunch ini sangat berbaloi compare to afternoon tea di Lounge on the Park, Mandarin Oriental gak, yang macam hampes.
Before we proceed with the menu, I know you can't wait..jeng~jeng!
Let me introduce this exquisite Japanese Restaurant that successfully pleased our palate till the end. Muahhh!!
Dated back from as far as 1988, Wasabi Bistro's first outlet was launched in Hawaii.
Now with an outlet in Mandarin Oriental Kuala Lumpur, this restaurant is subtly decorated with exquisite Japanese art and artifacts, while the dining areas have been designed to offer guests the utmost privacy without confining them to small, tight spaces.
Resplendent with oriental motifs, the silver cushioned wicker furniture accents the marble and wood toned interiors.
Apart from showcasing authentic recipes using top notch ingredients,
Wasabi Bistro menu boasts of Californian-Japanese cuisine.
As we were comfortably seated, a male staff came to us (by his accent, I think he's Bangladeshi).
Gently, he poured warm green tea and came with that, icy glass with carrot and cucumber stick in it, perfectly complimented with creamy peanut sauce.
We were sort of addicted to it (or maybe we were too hungry we tend to chew anything edible).
This the our first experience having salad as an appetizer in a Japanese Restaurant.
Hungry took control of our mind, it slips our thought that this is a place of fusion, where east married west.
Our lunch started with the delicate-looking and golden Kumi's No. 1 Special,
Made with succulent Crab with creamy avocado wrapped in white snapper belted with seaweed.
Capped with homemade secret aioli, baked and kissed with eel sauce. (price: USD4)
Let me tell you a bit about this dish.
If you ever want to experience something so tasty, so fine, absolute delectable,
here is my advise, try this for sure!
Crabmeat in it was finely sliced, it tasted like crabmeat in mayonaise sauce, and we thought that the outer layer of this dish was kind of beaten egg, and we were wrong.
It does however had a taste like egg, but actually, it's the white snapper fish. Suprise! Suprise!
This is how I would look when my tummy rumbles.
Prawn Tempura.
Ouishh...penat sungguh mengarang dalam english.
Terasa macam nak buat assignment plak. Meh le kita tukar bahasa pasar.
Hahahaha...bapak pemalas betul!
Tempura ni macam biasa le. Balut udang, shintake mushroom, eggplant dengan tepung tempura.
Rasanya biasa2 je. Dipping sauce pun tidak la tak sedap. Pun biasa2 aja.
Sebab everything yang ada kat table kitaorang ni non spicy food,
tekak melayu mula meraung. Perut melayu mula menggelodak.
Tengah syok makan, hati terbayang2 sambal belacan, gulai lemak cili api daging salai, nasi putih panas2....
Salmon Teriyaki bersaiz sebesar tapak tangan Yong.
Sebab besar sangat, kitaorang makan separuh je.
What a waste..tapi nak buat cemana, yang makan pun jenis selalu ikat perut.
Bila nak makan lebih sikit, dah tak muat.
Rasanya sedap juga. Nak kata salmon ni fresh? Urmm...maybe.
Miso Soup.
Yang ni pun Yong tak sempat makan..sebab dah penuh sangat perut ni.
So tak dapat la nak explain panjang lebar apa rasanya.
Tengok gambar je lah ye?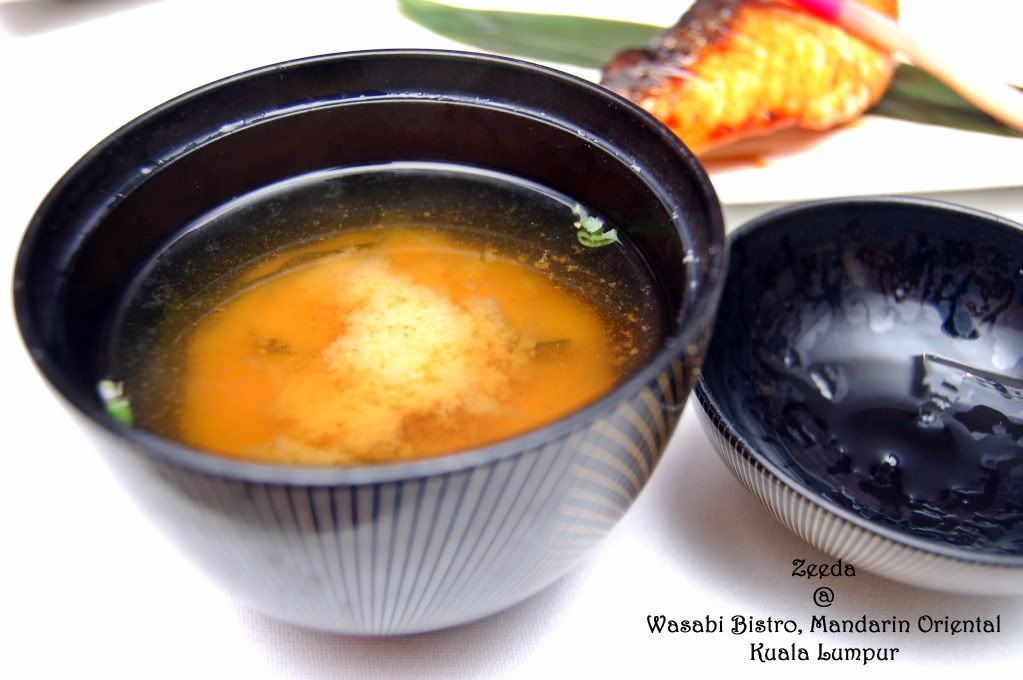 Ada juga disediakan nasi putih semangkuk seorang. Sebab tu tak boleh makan banyak.
Nasi lagi, lauk lagi, appetizer bagai.
Yang buat kitaorang rasa bakal tidak mampu untuk makan di sini lagi ialah bila time nak bayar bil.
Memangla semua makanan2 ni guna voucher, tapi tidak termasuk air minuman.
Yong order lime juice yang tak berapa sedap tu...kena charged RM20.90.
Yer adik2, kakak2, abang2...
segelas air limau ais di Wasabi Bistro ialah RM20.90!
Setelah kenyang, we headed home. Sepanjang jalan kitaorang jadi pemerhati lagak peminat2 bola sepak yang menyerbu Stadium Bukit Jalil untuk perlawanan akhir Piala FA, Terengganu menentang Kelantan, which by now, you know who's the winner.
Na~na~na~na~na...Ganu kite......
1) Ulasan yang ditulis di blog ini adalah berdasarkan pengalaman sebenar, pendapat peribadi penulis dan mungkin juga bergantung kepada selera penulis sendiri.
2) Rasa itu adalah subjektif. Penulis tidak dan tak akan bertanggungjawab jika pengalaman anda berbeza atau tidak seperti yang diharapkan.
3) Pendapat dan komen adalah dialu-alukan.
4) Kepada pemilik restoran/gerai/kiosk, sekiranya ulasan yang diberikan adalah negatif, sila ambil perkara tersebut sebagai satu ulasan yang prihatin dari pihak penulis. Penulis mengulas dari sudut pandangan sebagai seorang pelanggan.

5) Penulis tidak menerima sebarang bayaran samada dalam bentuk wang atau bukan wang bagi menulis ulasan ini.